Meet the dedicated and compassionate team at Harmony Road Animal Hospital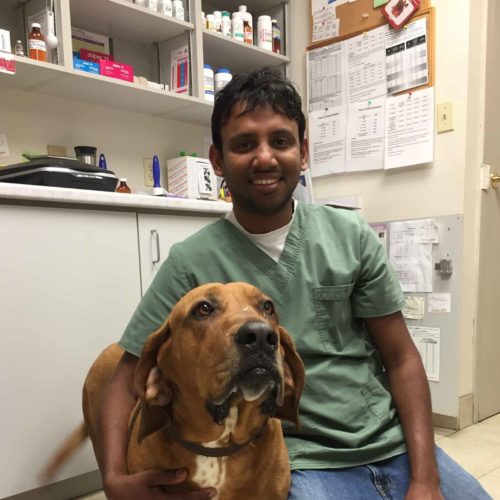 Dr. Pathman graduated in 2006 from the Faculty of Veterinary Medicine and Animal Science at the University of Peradeniya. Immediately following graduation he worked as a Veterinarian in a disaster relief project conducted by World Animal Protection and Blue Paw Trust. After one year, he took part in a humane pet population and rabies control project. During that time he was the field coordinator for that model project for Asia.
In 2009 Dr. Pathman and his wife Dr. Tharshani chose to move their family to Canada to pursue their careers in Veterinary Medicine and to make it their permanent residence.
After migration to Canada Dr. Pathman decided to learn the ways of Canadian Veterinary Medicine so he started to work as a Veterinary Assistant at Westway Animal Clinic in Etobicoke. Later, he worked as a Veterinary Technician at the same clinic until 2012. While working there he completed the exams conducted by CVMA and AVMA and fulfilled the requirements to work as a practicing Veterinarian in North America.
In 2012 (because of the passion towards animal welfare), Dr. Pathman decided to join the Ontario SPCA and worked with them for one year. After gaining great experience and surgical skills through working with the OSPCA, he decided to join the DMS Veterinary Group as an Associate and worked in Dresden, ON for four years. During his time in Dresden his passion and love for pets, clients and staff grew.
In June of 2017, Dr. Pathman, his wife and sons chose to permanently settle in Oshawa and make this beautiful community their home and fulfill their dreams of being practice owners as they opened Harmony Road Animal Hospital.
Dr. Pathman's aim is to provide high quality, affordable Veterinary Medicine to his community. His compassion for pets and their owners goes above and beyond. Pets can be comforted by his calm and caring demeanor. You can be sure that your pets are in the best care when they are treated at Harmony Road Animal Hospital. He looks forward to meeting and providing essential and exceptional services to the pets and pet parents of Oshawa and surrounding areas.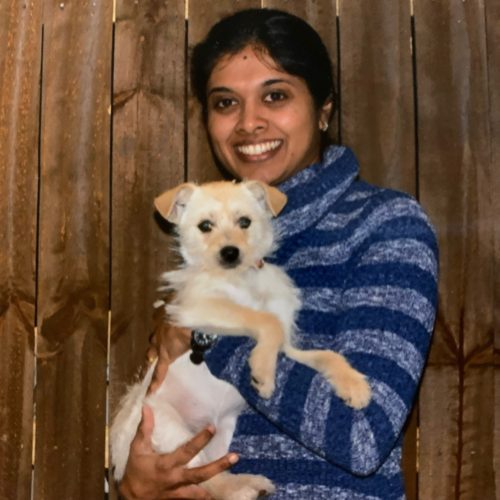 Dr. Thavarajah graduated from the University of Peradeniya in 2006. She worked in mixed animal practice before moving to Canada.
Dr. Thavarajah completed North American Veterinary licensing in 2012. She worked and gained experience in different general practices before joining the Harmony Road Animal Hospital team.
Her areas of professional interest includes preventive care, internal medicine, surgery and pain management.
In her spare time, she enjoys cooking, painting and spending time with family and friends.
She looks forward to meeting you and your furry family members!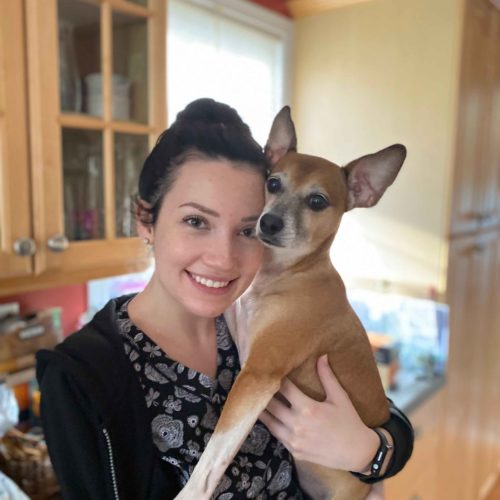 Mya started at Harmony Road Animal Hospital in 2020 as an assistant. At that time, she had completed her first year of the veterinary technician program at Seneca College. Mya learned a lot from Dr. Pathman and gained confidence from working over the summer and she graduated from the program in April 2021. Mya then wrote her national exam and officially became an RVT in August 2021. Since then, Mya has been working everyday, helping with surgeries, sick patients, and our regular appointments. When Mya's not working, she enjoys spending time with her two dogs, Baxter (pictured) and Guinness, as well as her pet Guinea pigs.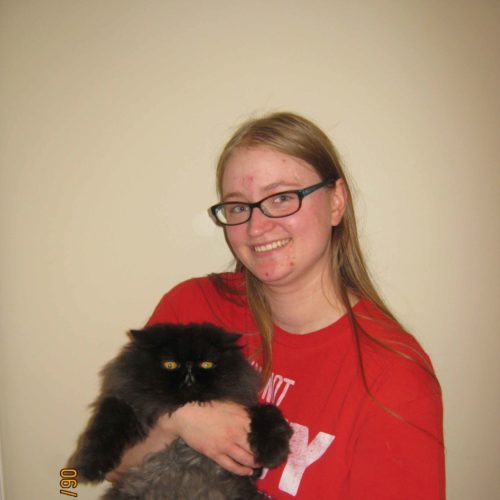 Erica has always loved animals, so she graduated from the Veterinary Technician program at Seneca College in 2016 and wrote and passed the VTNE in the same year, becoming an RVT. She worked at a few other clinics for a few months before coming to work here at Harmony Road Animal Hospital in December 2017. If she's not here putting all of her effort into looking after all the animals that come through the door, she spends most of her spare time at home either knitting, writing, or looking after her own pet, Cadbury Bunny.
Stefanie has always wanted to have a career where she can make a positive impact on the lives of animals. Since high school she has spent her time volunteering and working at animal hospitals, as well as pet stores. Stefanie graduated from a veterinary assisting program at Ashworth college in 2021. In the future she would like to go to school for the Veterinary Technician course and become an RVT. When Stefanie's not in the clinic caring for your fur babies she spends her time with her Pomsky Rayne, her call duckling Bubbles, along with her cat Squid.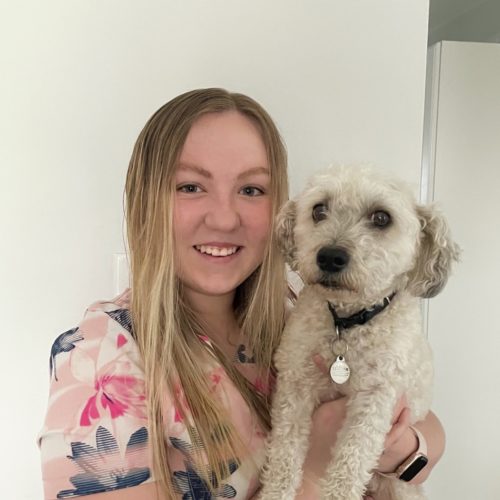 Cierra has always had a love for all animals and always dreamed of working in the veterinary field.
Cierra completed her CO-OP at Harmony Road Animal Hospital in 2018 and joined the team as a Veterinary Assistant shortly after. She has two dogs, Koda (pictured) and Mocha. When Cierra is not at the clinic she will be found playing soccer, working out, cooking with her family, and cuddling her pups.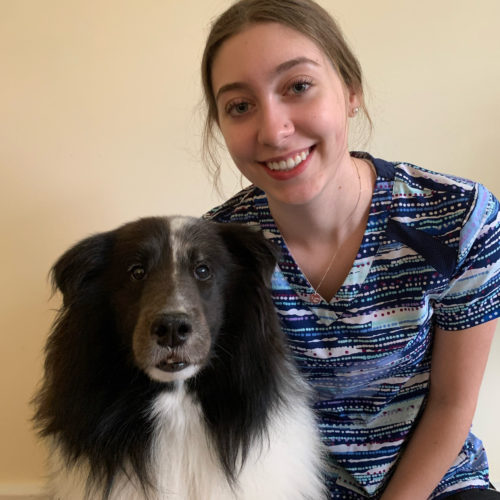 Katie has always loved being around animals and dreamed to become a vet at a young age. Katie completed her co-op here in 2020 and started working with us shortly after Dr. Pathman and Dr. T have inspired Katie to continue in the veterinary field. Katie is currently attending the University of Guelph for Biological Science and plans on attending vet school in future years. When Katie is not in clinic she enjoys working out, going to her cottage, and hanging out with family and friends and her dog Champ (pictured).
Amy graduated in 2023 from the University of Guelph with a Bachelor of Science in Animal Biology. Her goal is to eventually go back to school and one day become a veterinarian. Amy is currently taking a gap year and started working at Harmony Road Animal Hospital in September 2023 to gain more experience. When Amy's not working, she enjoys spending time with friends and going on adventures with her golden-doodle Finlay.